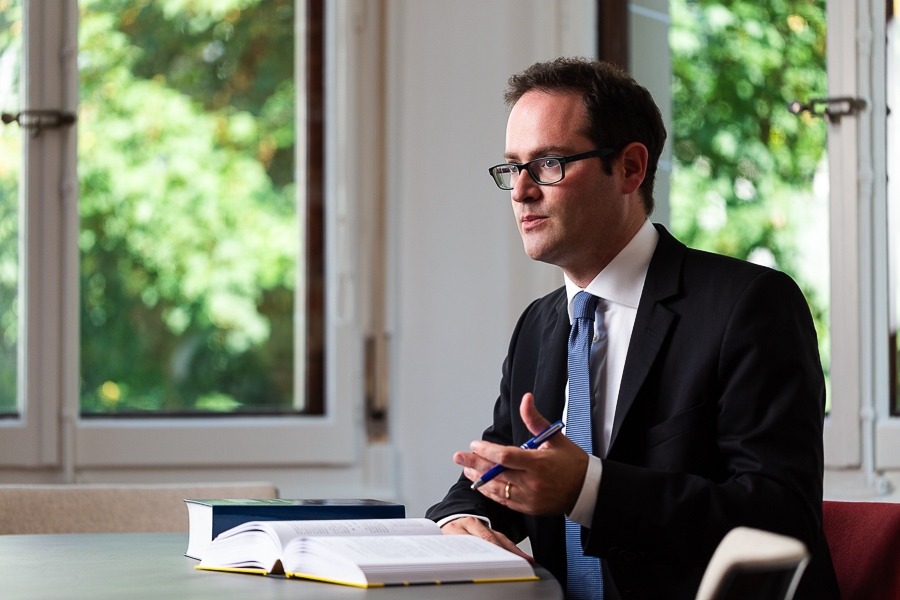 Mathieu Blanc has been practising for many years in the different fields of commercial law. He regularly advises local or international companies in all stages of their constitution and development as well as during corporate transfers and successions or for issues of governance (drawing up shareholders' agreements, financing, organisation of the board of directors).
Mathieu Blanc also advises numerous clients for the drawing up and negotiation of sales contracts. He furthermore assists public and private authorities in the field of construction law or public contracts.
He is the author of a number of publications, mainly in corporate law, including his PhD thesis devoted to the theme of Corporate Governance in groups of companies which won him different prizes. He regularly gives conferences in his areas of expertise.
Mathieu Blanc was ranked in The Best Lawyers in Switzerland edition 2023 for corporate law, as well as mergers and acquisitions law. The Best Lawyers is one of the most respected peer-reviewed publications in the legal profession.
After getting a law degree from the universities of Lausanne and Zurich, he worked at the Centre du droit de l'entreprise of the University of Lausanne (CEDIDAC). He then got his admission to the bar in 2010. He worked within two of the biggest Swiss law firms before joining Kasser Schlosser Attorneys at Law in 2016 as a partner.
Mathieu Blanc practices equally as well in French and English and also has a good working knowledge of German and Italian.
Mathieu Blanc was named "Lawyer of the year" in the corporate law category in 2022.

Main areas of practice

Partner, Kasser Schlosser Attorneys at Law (2016-)
Lecturer in Mergers and Acquisitions, University of Lausanne (2021-)
Lecturer in Principles of Private law, University of Lausanne (2021-)
Member of Parliament and Chairman of the Legal Affairs Committee, Grand Conseil Vaudois (2012-2019)
Lecturer in Commercial Law, University of Lausanne (2016-2017)
Vice-Chairman of PLR Vaud (2012-2017)
Associate, Froriep Attorneys at Law then Walder Wyss SA (2010-2016)
Trainee, Froriep Attorneys at Law (2008-2010)
Paralegal, Froriep Attorneys at Law (2006-2008)
Research assistant, CEDIDAC (2003-2006)

Executive Boards and Foundation Boards

Administrator, RPM Pharma SA (2019-)
Board member, Avec S.A. (2019-)
Board member, Fondation La Source (2018-)
Board member, CAVE DE LA CÔTE société coopérative (2018-)
Board member, Fondation BVA (2018-)
Administrator, LFM Pharma SA (2017-)
Administrator, KLONDYKE SA (2017-)
Ethics committee member, FC Lausanne-Sport (2012-)

Best Lawyers in Switzerland 2023
Corporate Law | Mergers and Acquisitions Law

Lawyer of the year in Lausanne 2022
Corporate Law

French
English
German
Italian

Admission to the bar (2010)
University of Lausanne, PhD (2010)
University of Lausanne, Law degree (2003)

Chronique de jurisprudence  – Arrêts choisis du Tribunal fédéral parus en 2022 en matière de droit des sociétés
Coauteure: Rafaella Demierre
not@lex 3/2023 p. 123 ss

Chronique de jurisprudence – Arrêts choisis du Tribunal fédéral parus en 2021 en matière de droit des sociétés
Co-author: Rafaella Demierre
not@lex 3/2022 pp. 98 ff.

Nouveautés du futur droit de la société anonyme
Co-author: Rafaella Demierre
not@lex 4/2021 pp. 133 ff.

Chronique de jurisprudence – Arrêts choisis du Tribunal fédéral parus en 2020 en matière de droit des sociétés
Co-author: Rafaella Demierre
not@lex 3/2021 pp. 124 ff.

Compétences (résiduelles?) des organes dirigeants des sociétés filiales
Co-author: Annie-Fabienne Pillionnel, in J.-L. Chenaux/D. Canapa, Développements récents en droit commercial VII, Le groupe de sociétés, Collection lausannoise CEDIDAC, Vol. 76
Berne 2021, pp. 21 ff.

Chronique de jurisprudence en matière de droit des sociétés – Arrêts choisis du Tribunal fédéral publiés en 2019
Co-author: Rafaella Demierre
not@lex 3/2020, pp. 117 ff.

Confier la rémunération des dirigeants aux actionnaires ? Une idée dangereuse !
In Entreprise Romande, Le magazine
December 2010

Corporate Governance dans les groupes de sociétés : de l'organisation équilibrée des organes dirigeants dans les groupes de sociétés
Thèse, SSHW 290
Zurich 2010

Renforcement du libre accès au marché intérieur pour les avocats – Commentaire de l'arrêt du Tribunal fédéral 2C 85/2008 du 24 septembre 2008
Co-author: Nicolas Iynedjian, in AnwaltsRevue 1/2009, pp. 41 ff.

Révision du droit de la SA : une disgrâce injustifiée du conseil d'administration ?
In "Le Temps", 23 January 2008, p. 25

Pourquoi les actionnaires ne sont pas les propriétaires d'une société ?
In Le Temps, 1st December 2006

Les Proxy contests : un modèle pour le droit suisse de la société anonyme ?
Co-author: Laure Dallèves, in N. Dongois/M. Killias (Eds) : L'américanisation des droits suisses et continentaux
Zurich 2006, pp. 229 ff.

La répartition des compétences entre les associés et les gérants dans le droit révisé de la Sàrl
In SJZ/RSJ 2006, pp. 221 ff.

La révision du droit des fondations : nouveautés en matière civile et fiscale
Co-author: Laure Dallèves, in Bulletin CEDIDAC Nr. 42
Lausanne 2005, pp. 2 ff.

La délégation de compétences par le conseil d'administration
In F. Dessemontet/P.-A. Oberson/A. Thévenaz/M. Blanc (Eds.): Aspects actuels du droit de la société anonyme, Travaux réunis pour le 20ème anniversaire du CEDIDAC
Lausanne 2005, pp. 289 ff.

L'évolution récente du droit des obligations
Mathieu Blanc (Ed.), in CEDIDAC Nr. 61
Lausanne 2004

Gouvernement d'entreprise, Rapport final du Groupe d'experts
Mathieu Blanc, François Dessemontet, Julien Perrin (Eds.), in CEDIDAC Nr. 59
Lausanne 2004

Situation du cadre supérieur au sein d'un groupe de sociétés
Co-author: Raphaël Gani, in Bulletin CEDIDAC Nr. 39
Lausanne 2004, pp. 1 ff.

Le point sur la situation actuelle du gouvernement des entreprises
In Bulletin CEDIDAC Nr. 37
Lausanne 2004, pp. 1 ff.

La Chambre Vaudoise du Commerce et de l'Industrie (CVCI)  avec economiesuisse « Impacts de la révision du Code suisse de bonnes pratiques pour la gouvernance d'entreprise ».
Mathieu addressed the impact of the new CSBP on the duties (and rights) of company directors. 
11 December 2023, Lausanne
CVCI - Chambre vaudoise du commerce et de l'industrie - COMPLET-Impacts de la révision du Code suisse de bonnes pratiques pour la gouvernance d'entreprise

Association des administrateurs professionnels indépendants associés (APIA), conférence sur le thème du rôle et des tâches du conseil d'administration dans un processus M&A (acquisition, vente, fusion).
21 November 2023, Lausanne
Conférence APIA Swiss – Opérations de Fusion / Acquisition : Enjeux et implications du Conseil d'Administration | APIA Suisse

Nouveau droit de la société anonyme – Assemblée générale, droits des actionnaires et actions judiciaires
Conference presented with Rafaella Demierre in the framework of the Midis du Jeune Barreau Vaudois
13 December 2022, Lausanne 

(PDF)

Le nouveau droit de la société anonyme et son impact sur l'activité notariale
Conference presented with Rafaella Demierre and organised by l'Icone
10 November 2022, Yverdon-les-Bains

Révision du droit de la société anonyme et modification de l'ORC
Conference presented with Rafaella Demierre int the framework of the Seminar of the ANV
20 May 2022, La Sarraz

(PDF)

Chronique de jurisprudence commerciale
Seminar "Droit de l'entreprise" organised by the CEDIDAC
23 March 2017, Lausanne 

Corporate Law and Corporate Governance in Switzerland
4 hour class given in English in February 2014 and 2015, LUISS University of Rome

Le projet de révision du droit de la société anonyme
Conference given before the Institut suisse des administrateurs et directeurs d'entreprises (ISADE – Swiss institute of company directors and managers)
3 March 2008, Paudex